Level X. Adults Only. Viewers Discretion
Although I'm a great believer in the fact that we are all grown ups, I am aware that there are a great many people out there that would disapprove of Level X. That's why I have marked it Adults Only and Viewers discretion. In other words, YOUR CHOICE.

It's a shame that it has to come to this because I believe (along with Lilly Allen) that sex in all of its legal forms is a gift and has in fact healing powers. I guess we have to thank the Victorians and probably the Church for the set-back on sexual understanding and stunted views on especially, self-satisfaction or (horrible word) masturbation.
I firmly (ooer missus) believe that sex has life-giving properties and between consenting adults is a joy and a gateway to friendship, love and before we forget, FUN.
To that effect I am adding to my world our world a place where you can buy all sorts of enhancers to the sexual act either with yourself or a friend. In other words, Sex Toys…I make no apologies…
HAVE FUN HERE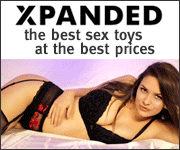 ———————————————-
Following on from what I had to say above, I've just discovered another interesting site.
In this case called…
Shop in Private seems (I have had a check through) to offer pretty much anything from enema kits to er…(I'll let you have a look-click the banner).
NOTE: At the moment there are special offers on,
so it could be worth your while to take a look.
More to come…